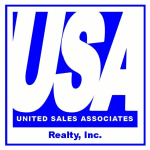 United Sales Associates Realty Inc. Announces New York & New Jersey Brokerage Service

United Sales Associates Realty, Inc., leading residential specialists and commercial services provider, is pleased to announce its NY & NJ Licensure of Brokerage Services in the Hudson Valley

SUFFERN, NY, August 15th, 1998, United Sales Associates Realty, Inc., a premier provider of full-service real estate, is pleased to announce the licensure of it's brokerage service in New York and New Jersey. U.S.A. Realty serves Rockland, Orange and Bergen counties. Broker of U.S.A. Realty, Richard Pilla, said: "The reason to expand was clear from the start. Being located on the NY & NJ state border, naturally we would expand to better serve the needs of our clients. We integrate personalized solutions with custom real estate services. The result is an accelerated sales cycle at less cost to our clients. We don't focus on doing deals, we focus on doing right for our clients."

Richard Pilla is a Graduate of REALTOR® Institute (GRI), a progressive group of real estate professionals. The designation is exclusive and such exclusivity ensures that an agent who has attained the GRI® designation is considered a leader in the real estate profession. It's awarded only to real estate agents who have successfully completed a rigorous program of study with extensive training in finance, negotiations, marketing, pricing property, legal issues, construction and environmental concerns, real estate investment and ethics. GRI® designees have made the commitment to provide a high level of professional services to their clients. "Whether you're buying, selling or just need some guidance, you'll want a skilled professional on your side. GRIs have a keen understanding of the transaction and what it takes to help you achieve your goals. GRIs guide you through the buying or selling process, while representing your interests to the fullest." Richard says, "Buying a home isn't simply about paying the lowest price. And selling a home isn't just about getting the price you asked for. There are fees, taxes and other costs that can impact the bottom line of your home purchase or sale. GRIs have resources to meet and satisfy the needs of buyer and seller." GRIs also subscribe to the Code of Ethics of NAR®.

The GRI® Designation was established by the Education Committee of the National Association of REALTORS® and approved by the NAR® Board of Directors on February 12, 1974. It was amended and approved by the Education Committee in January, 1992.

Contact Details:
Richard J. Pilla, GRI
United Sales Associates Realty, Inc.
Licensed Real Estate Broker
New York & New Jersey
Tel: 845-369-3858
For more information visit: usarealtyhomes.com/about.htm

Some of the material published in this press release has been previously published in part or whole, by GRI®. It is with the expressed written consent from GRI® that only GRI® designees may promote and use these publications to advertise and promote their services. While it is the intent of United Sales Associates Realty, Inc. with this press release to be accurate, information contained in this press release is for promotional purposes only and therefore, some of this information may be deemed reliable, but not guaranteed.

###