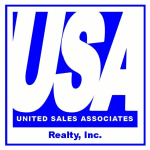 United Sales Associates Realty Inc. Announces 15 Year Milestone Anniversary

NY & NJ licensed real estate agency announces it's 15 year milestone anniversary of brokerage service. United Sales Associates Realty, Inc. based in Suffern, NY, celebrates 15 years (1998 - 2013) of service in the Hudson Valley. Leading residential specialist also provides commercial service.

SUFFERN, NY, August 16 th, 2013, United Sales Associates Realty, Inc., a premier provider of full-service real estate, is pleased to announce it's 15 year milestone for real estate brokerage service. U.S.A. Realty serves clients in the Hudson River valley of New York & New Jersey, in Rockland, Orange and Bergen counties. It's been the sole real estate agency with either real estate broker or agent designated, Certified Residential Specialist® (CRS) located in the 10901 zip code, including Montebello and Suffern. NAR® states, "CRS… is the highest designation awarded to sales associates in the residential sales field; the most respected agent designation from the National Association of REALTORS®. The CRS Designation recognizes professional accomplishments in both experience and education. Since 1977 the Council of Residential Specialists has been conferring the CRS Designation on agents who meet its stringent requirements. About 4% of realtors are active CRS Designees."

Richard Pilla, Broker of U.S.A. Realty quotes NAR®, "Buying a home isn't simply about paying the lowest price. And selling a home isn't just about getting the price you asked for. Along the way, there are fees, taxes and numerous other costs that can impact the bottom line of your home purchase or sale. A Certified Residential Specialist® is trained to help you understand the marketplace, negotiate successfully on your behalf and create a clear picture of a proposed transaction. The result is a more rewarding experience, whether you're buying, selling or both." A rare combination of experience and education makes a Certified Residential Specialist® more than just another real estate agent. "But", Richard says, "it's the ability of this professional to make a real difference in the purchase or sale of your home that makes Certified Residential Specialists® among the best professionals in the business." Richard says "CRS is the best of the best. Get Serious... Get a CRS and discover how enjoyable and successful a real estate relationship can be. Our motto has always been, USA Realty... When We Take Listings... We Take them to the World!"

CRS: Certified Residential Specialist® and GRI: Graduate of REALTOR® Institute are designations of the National Association of REALTORS®.

Contact Details:
Richard J. Pilla, CRS, GRI
United Sales Associates Realty, Inc.
Licensed Real Estate Broker
New York & New Jersey
Tel: 845-369-3858
For more information visit: usarealtyhomes.com/about.htm

Some of the material published in this press release has been previously published in part or whole, by CRS® and GRI®. It is with the expressed written consent from CRS® & GRI® that only CRS® and GRI® designees may promote and use these publications to advertise and promote their services. While it is the intent of United Sales Associates Realty, Inc. with this press release to be accurate, information contained in this press release is for promotional purposes only and therefore, some of this information may be deemed reliable, but not guaranteed.

###